This Garlic, Ginger and Lemongrass Chilli Jam is full of some of my favourite flavours, and to top it off packs a spicy kick. Most Chilli Jam recipes call for only a few chillies but as you will see mine uses a whopping 20! Don't be put off this, as it has the perfect balance of sweet, spicy and tangy flavours – making it so easy to demolish.

My Chilli Jam makes it the perfect condiment for everything from a classic cheese toasty to my Vegetable Pakora and Sri Lankan Veggie Patties. Good luck trying to make the jar last any longer than a week! I highly recommend doubling/tripling this recipe and making a few jars to store away or gift.
This recipe is a great way to use up any excess chillies you may have. My three chilli plants, in my garden, have been producing a crazy amount of chillies so this is why I came up with this recipe – as a way to store them for future use. That said, I'm not sure how long my batch will last as I've been adding this to pretty much everything I've been eating for the last week!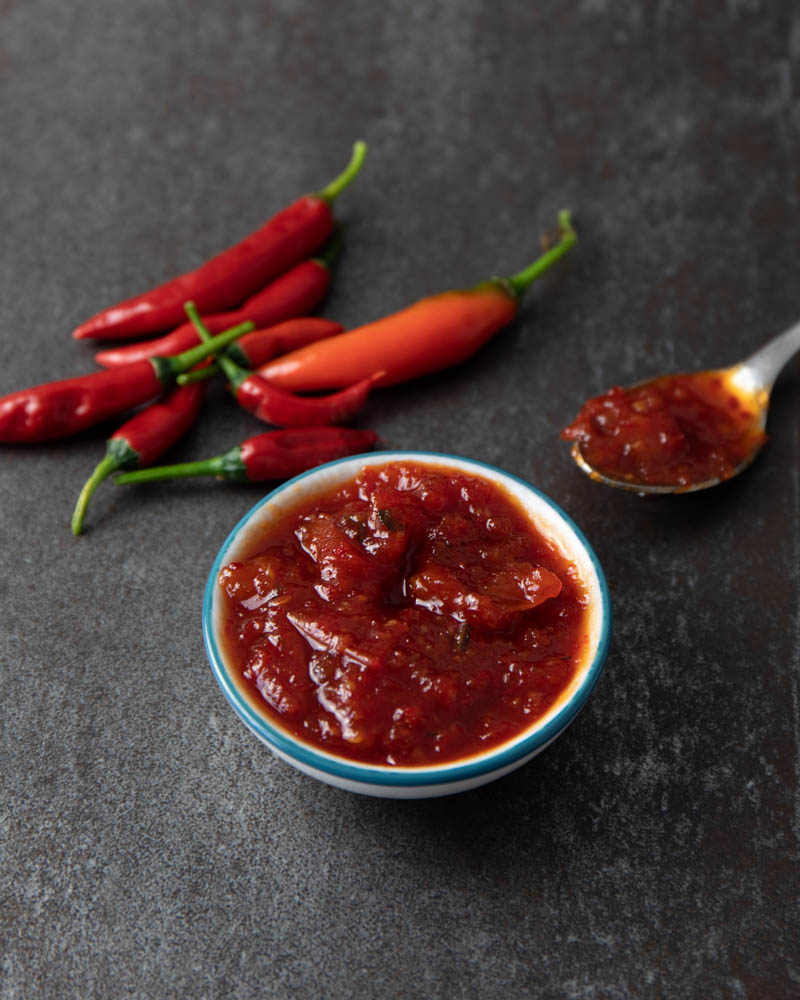 Ingredients
20 red chillies

10 cloves of garlic

Thumb of ginger

2 lemongrass stalks

300ml white vinegar

1 tin chopped tomatoes

350g white sugar
Directions
Blend the chillies, garlic, ginger, lemongrass and vinegar together.
Transfer to a saucepan and add the chopped tomatoes and sugar. Bring to the boil over medium-high heat and keep stirring until all the sugar dissolves.
Reduce to a simmer and cook for around 50 minutes or until thickened. Make sure to stir the Chilli Jam occasionally to prevent any burning. Stir more often when it gets thicker.
Allow to cool slightly. Fill sterilised jars with Chilli Jam, close lids tightly, invert and leave to cool.

Label and store in a cool pantry for up to 3 months. Refrigerate once opened and consume within a month or two.